Have you ever found $50 in the street? Or even $20? Your heart skips a beat you do a bit of a double take and then with a gasp of recognition you realise cha-ching!! Free money!
Finding a rare record in the wild is a little like that. Not necessarily the monetary value but the feeling of not believing your luck. Like those people who find rare vases in their attic on "Antique Roadshow" or finding a
Stradivarius violin
at your local Hock Shop, part of the thrill of digging is knowing you might find something for a bargain. Although eBay has somewhat diminished the experience you still find things for even $10 or $20 less than the value quoted on
Discogs
or
Popsike
and get the thrill of knowing you've grabbed something for a steal.
This happened to me the other month in the most round about and backward way. I saw a very rare record on my recent trip to Melbourne and
didn't even realise it!!
Even worse! I left it behind and traveled back home to Hobart Tasmania without the foggiest idea of what had slipped through my fingers. The record was this one.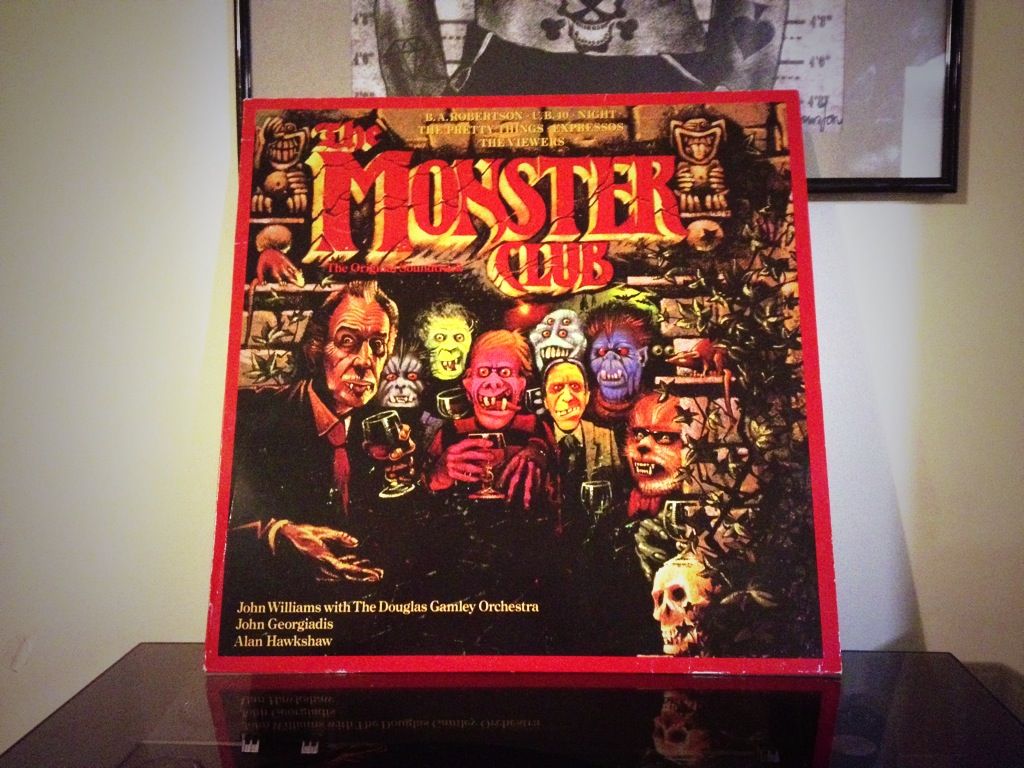 The Monster Club OST-1981 (Chips Music)
I know right? I'd never heard of it either!
It wasn't until I had interviewed Lisa Sumner of
Just Cool Records
that I realised the record was actually very valuable to collectors. When i asked in the
interview
what was the most valuable record she owns her reply was this very record, The Monster Club. And yes as recent sales on eBay can attest the record is highly sort after and sells for quite a few dollars a pop. Most recently in May this year it sold for $256.00 US. That is some serious kind of money. The copy I found was selling for $19.95AUD.
So our interview jogged my memory that I had seen it in Melbourne on my recent trip but I just left it at that. I considered it lost to the winds. I wasn't off interstate for god knows how long and I had overlooked it anyway. It held very little value for me. It wasn't an iconic film (an Elm Street or a John Carpenter) and I had other items on my wishlist I wanted more, two of which I walked out of that very store with on the day in question.
But it bugged me. The fact I had left it behind bugged me. I'm so proud when I find a record for a steal and I hadn't even noticed it. And the price!! OMG how could you overlook it at that price? So I thought I had nothing to lose by hatching upon a simple plan. If I couldn't afford to go to the record I would bring the record to me.
I called my good friend Scott in Melbourne. He is also a collector. Not of records mind you but of postcards..........and Hot Wheels cars. My god does he like Hot Wheels cars, he has a couple of thousand at the very least, a lot which are opened and proudly on display in his house he shares in Brunswick. He's a collector and so I know he has a grasp on the type of obsession which makes you call in favours of your friends overseas. Well , on the main land, so it's technically overseas.
So I called him and I said. "Hey can you do me a favour? I saw this record in Melbourne and I hear its worth a bit of money if you go and grab it for me I'll pay you back. I'll transfer the money into your account."
He said "OK whats my cut?"
I stammered. I gulped. I wasn't expecting this.
"Nah I'm just bullshitting you. Of course I'll go grab it, what it is it? Where's it at?"
I told him the specs.
The next step was calling the store. I had to make sure they still had it. So I called them up. Now when I called them I got a little nervous. I felt like I was doing something naughty. I mean did the guy running the shop have any idea of it's value? Was i stealing from him? Was I getting away with something dastardly? But I reasoned with myself that it was valuable to
collectors
. Not everybody! The guy in the shop by rights could either put it on the wall of his shop, next to the Beatles
"Yesterday and Today"
butcher baby record or the Rolling Stones white test pressing and wait for years for someone to buy it or he could just put it amongst the other soundtracks and maximise his profit for that week by making sure at least one more record left the shelves.
Still that didn't stop me from trying to sound as blasé as possible, "Oh I'm calling from Hobart and I was in your store about 3 months ago and I saw you have a record I'm interested in, it's in your soundtrack section and I was wondering if you can put it aside for me and I'll get a friend to pick it up?"
"Sure mate what is it?" and so i told him. There was a pause and then he said "What I'm going to have to do is find it and call you back."
"Ok" I said.
Oh no!!!
The jig was up for sure
. I thought
he'll find it, he'll wonder why I'm interested, he'll do a quick Google search and he'll hold it for himself
.
Or worse.! Up the price.
So I hung up and waited for the worst.
He called back 10 minutes later he said "Yeh I found it. Its $19.95. I'll put it aside for you."
"That's great!" I said, "My friend will pick it up later in the week."
OK so it was as good as mine. What was i going to do with it? Well first I had sit and wait for it to arrive.
I deliberated over what to do for a long time. Keep it or sell it? The record still didn't have much value for me. After some research I found that it was unique for many reasons. It had a very short print run and included rare tracks from new wave post punk bands from the UK at the time .
The Pretty Things, UB40 and Expressos.
Also it had an incidental score by John Williams. Yes
that
John Williams. It also had some great cover art by Graham Humphreys.
So what next?
I'd found a great score for a bargain price but I wasn't sure what to do. I could put it on eBay but there was one other copy already for Sale on
eBay for $379
(Buy It Now) and it had been on there for at least a year. I could undersell it for less but I wasn't sure. I still ran the risk of having it sit there forever. I could auction it but I risked not getting a good price, and I know I could set a reserve, but reserve prices always seem a little sneakily unfair. Like bidding starts at $10 but I'm really not going to sell for less than $200.
I also had never capitalised on a great score as well. Found countless bargains but never decided to
flip
a record as they call it. A practice which is much maligned by collectors, especially when it comes to rare, never to be seen again releases on Record Store Day. The practice goes that some douches will buy up more than one copy of a collectors item on release day and then sell them for inflated prices on eBay to the hapless folks who didn't get there in time. Or got there before all the
flippers
got there and bought up two of everything. Shame on them. No. I've always been into the bargains for myself, although the cheap prices do create a level of status amongst us waxheads. I mean you'll keep the thrift store Stradivarius under lock and key but you won't stop bragging about finding it for a song to your mates.
By the time it arrived I knew exactly what I wanted to do.
I was going to trade it.
I got in touch again with Lisa Sumner from
etsy store
Just Cool Records. I told her I had found another copy in Melbourne for really cheap and did she want to trade? She leapt at the chance. I said I wanted to grab 4 LPs and a record case from her. I thought that would seemed fair at a total value of about $250 or so and that left some room for her to make a little profit. So I went through her shop and cherry picked some of her choice titles. She always has some of the rarest and best so I had to really be picky. I couldn't get them all. In the end I got
Fright Night, Liquid Sky, Famous Monsters Speak
and
Legend of the 7 Golden Vampires.
WIN!!
Plus this sweet Vintage Sesame Street Record Case.
Holds About 100 45s
This solution totally worked out for the best. I got some great stuff I've always wanted and she had the experience to make sure it sold for what it was worth to another collector. And low and behold she put it in her etsy store and she sold it 7 days later. For $280 AUD! To a rather highly respected member of the collecting community. Man if I could only get that guy to agree to an interview!!! But we'll have to wait and see, maybe this article will bring him out of hiding.
So there you go. An awesome adventure in vinyl. I found $20 in the street and turned it into $250.
Not bad. Not bad at all.
til next time gang
Luke Pencilneck